Ik werd voor het eerst met Gino Severini's werk geconfronteerd op vakantie in Venetië. Vooral zijn techniek en het effect dat hij met die techniek bereikt vind ik fascinerend. Het doek dat verantwoordelijk is voor mijn Severini-fetisj is die hieronder: Mare = Ballerina.
Mare = Ballerina, 1914
Train de la Croix Rouge traversant un village, 1915.
Festival in Montmartre, 1913.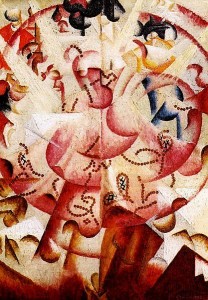 Danseuse a Pigalle, 1912
Dynamic hieroglyphic of the Bal Tabarin, 1912
Severini wordt gerekend tot de school van de futuristisch kubisten. Bijzonder is dat hij binnen het kubisme toch een eigen stijl had, hij benaderde zijn doel langs andere wegen als andere gerenommeerde kubisten als Picasso en Braque.